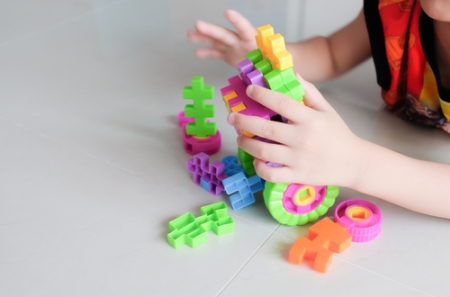 Christmas is almost here. If you have children in your life, you probably experience some joy in making this time of year a memorable one for them. You want to give a gift that makes them smile. What you do not want to do is give them a gift that may potentially harm them.
To help make the holidays a little safer, we've put together a list of some of the most dangerous toys available this year that you should avoid purchasing for children.
According to ToySafety.org, one of the top toys to avoid this year is called Peppa Pig's Muddy Puddles Family. This toy does not have consistent packaging, so depending on where you purchase it from, Amazon.com or Target, it has different age recommendations. On the packing marked for ages 2 and up, there is no choking hazard warning, despite the fact that its intended age group may have a tendency to put these figurines in their mouths.
Also on the list is the Slimeball Slinger, which is sold at Toys R Us and Amazon.com. This toy is marketed for children 6 and up, with a warning that states not to shoot at people or animals. However, this toy is incredibly similar to a slingshot – with bright green projectiles that can launch as far as 30 feet with enough force to cause serious eye injuries.
Another dangerous toy gun on the ToySafety.org list to avoid is the Nerf Rival Apollo XV-700 Blaster. This toy is sold online at Walmart.com, Target.com, and Amazon.com. While the packaging notes it may have the potential to cause eye injuries, it has no other warnings; yet, encourages consumers to use the toy blaster for battling and head-to-head competition. Children are shown wearing masks on the packaging but are not included with the product.
A toy from a popular children's movie also landed on the list of dangerous toys. The Good Dinosaur Galloping Butch, which is meant for children 3 and up, is sold online at Walmart.com, ToysRUs.com, and Amazon.com. Although this toy has warning and hazard labels that state its potential as a choking hazard and puncture wound injuries, it is still something you may not want for your kids, especially for those as young as 3, given the sharpness of its rigid and pointed tail.
Also from a popular movie, the Warcraft Doomhammer is intended for children 6 and up. It is sold at Toys R Us and on Amazon.com. It warns of its small parts, which present a choking hazard, but no other warnings regarding the potential impact injuries one may inflict from using the toy battle hammer, despite encouragement to do so.
At The Simon Law Firm, P.C., we can help you if you or someone you love sustains an injury from the use of a defective or dangerous product. You have the right to file a lawsuit if an unreasonably dangerous product is put its expected use causes an injury or even death. Call us today for a free consultation at 314-241-2929.