Ellen "Ellie" Krug was the special guest of Heels in the Courtroom, an Episode Titled "Otherness in Life and Law with Ellie Krug." (EP320 https://legaltalknetwork.com/podcasts/heels-in-the-courtroom/2021/09/ep320-otherness-in-life-and-law-with-ellie-krug/ )  At the age of fifty-two, Ellie transitioned from male to female while living and maintaining a law practice in Cedar Rapids, Iowa. Ellie was the first Iowa lawyer to ever transition genders and one of the few attorneys nationally to try jury cases in separate genders. She later relocated to the Twin Cities where she served as the founding executive director of a legal nonprofit that was conferred an American Bar Association award for innovatively increasing legal access.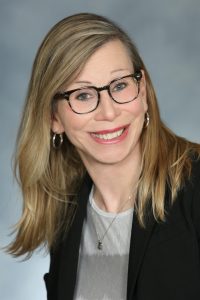 Today, Ellie is a popular speaker and advocate for "Otherness," urging others to break down the walls and reach out to those around us who have chosen a different path. She is also the author of Getting to Ellen: A Memoir about Love, Honesty and Gender Change (2013). She has presented on diversity and inclusion to governmental entities, court systems, Fortune 100 companies, law firms, nonprofits, and colleges and universities.
On the HITC podcast, Ellie shared the "Reader's Digest" version of her story. Out of law school, she formed her own law practice in Cedar rapids representing primarily railroads and trucking companies. Increasingly, she experienced issues relating to gender. When she was 11 years old:
there was this stuff inside my head. It was fuzzy at first and I didn't understand it, but by the time I got out of law school, it was pretty clear. I knew that I had something very serious going on about gender and that in all likelihood, I was really not a dude, really a woman. And I, at that time, I also had same sex attraction. So I was getting attracted to dudes. And so I started to suppress my identity in a very, very big way. I was married. I had married my high school, sweetheart. She was my soulmate. Oh, let me just tell you she was my soulmate. And I loved her with all of my heart.
I transitioned genders in 2009, the first Iowa lawyer to do that. And within a couple of months of that, I tried a jury case as Ellen Krug. We told the jury that I was transgender. I didn't want them thinking "Not only were my clients frauds, but that their lawyer was a fraud." We successfully got the jury to promise that they wouldn't hold me against my clients. Four days later jury came back in my client's favor.
I thought that my law firm would survive. I thought that I would be able to continue to practice law, but eventually my clients got afraid. I had high exposure cases. The demand [in one of my cases] was $32 million for a man who had been horribly injured in a car accident. My clients just didn't want to take a risk with me and I lost my practice. Not all of my transportation clients wanted me to quit, but it just, it wasn't going to work. So I ended up leaving Cedar rapids and moved to the Twin Cities and started all over again. I could have rebuilt the firm and I have no doubt that I would have been able to rebuild it, but I was done. I was done doing that.
Ellie carries a burden most of us don't carry when she meets new people, but she has moved forward with her new life and new career, knowing that "98% of people are good people. Her new life is not worry-free:
I really am quite neurotic about my voice. I'm about five foot eight, depending on which store is size four or a size six with still relatively blonde hair. . . . I began this non-profit from scratch. Within three years, we won an American bar association award for innovatively, increasing access. We're like a legal navigator, helping low-income people figure out how they could get legal access, get to legal resources.
Along the way, Ellie noticed that many people were sincerely seeking accurate information about transgender issues, which inspired her to create a "Transgender 101" program:
I think I've given that talk maybe 500, maybe close to 600 times. And it's about general human inclusivity about how to get past how we group and label people. And then we attach things to those groupings and labelings. And again, we're back to using lemonade because I use my voice as a tool. You may recall from the training that people react to the voice, I can literally see it on the screen or when we do it live in the room, they give me a look because their brain isn't reacting quickly enough to the fact that their eyes are telling one thing, but then their ears are telling them something else. But in the end, people adjust to my voice, not everyone, but most people do. And it's that adjustment. It's that process of going from, oh, this is weird to, oh, you know what? I kind of like her. And she's really, really like me. It is that process, that change of perspective, that that is how we change the world. We will never change the world ever by ordering people to think differently. The only way we will change the world is by inspiring people to be willing to change their perspective and then to hold that changed perspective. So that's what I do now. I help people see the world differently.
For those who would like to know more about Ellie Krug and her journey, feel free to listen to the entire podcast, Heels in the Court, Episode 320. You are also invited to visit Ellie's website https://elliekrug.com/tracks-takeaways/. On her "Take Aways" Page, she lists her four main goals as she gives her presentations: https://elliekrug.com/tracks-takeaways/
Understanding the value of diversity and inclusion based on a message about our commonalities and interconnectedness.
Understanding that fear is core to the Human Condition and strategies for addressing fear and the need to be more open to people who are "Other" or "different" from "us."
Helping to foster a willingness to take risks by communicating with/being empathic toward those who are "Other."
Increased understanding of what it means to live life authentically, including the need for compassion–for ourselves and for others.