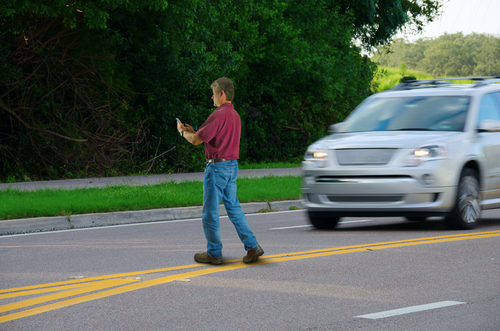 Distracted walking is said to be on the rise, especially among the young. A survey done by Safe Kids Worldwide indicated that about 80 percent of teens cross the street in an unsafe way, using their cell phones or wearing headphones. In conjunction with this is the increased pedestrian death rate among teens between the ages 12-19 since 2013.
So, should distracted walking be banned? A poll in Canada showed a great majority in support of regulations against distracted walking, most of whom were over the age of 50. Similarly, the same arguments cropping up against distracted walking are much like the ones used against dark clothing or headphones. People are walking either too slowly or unpredictably and may often not be aware of oncoming traffic.
However, the problem with this is that it inherently blames victims for their own injuries when drivers have an obligation to regard the safety of pedestrians. After all, even the old and very young are not always capable of reacting quickly, or may not hear well enough to be aware of nearby vehicles. Perhaps the issue is not pedestrians, but rather that the roads are not as safe for pedestrians as they should be in a society where drivers are often in a hurry and too impatient to wait for slow-moving pedestrians.
At The Simon Law Firm, P.C., our St. Louis personal injury attorneys are ready and willing to investigate all angles of your case. If you have been hurt as a result of someone else's negligence, you deserve compensation and justice. Our team is backed by years of insight, experience, and our proven track record of obtaining more than $880 million in verdicts and settlements on behalf of our clients.
Call us today for a free consultation at 314-241-2929.