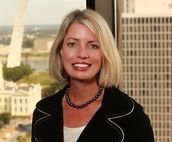 Our team at The Simon Law Firm, P.C. is excited to announce our very own Attorney Amy Collignon Gunn has been selected for achievement by the Women's Law Student Association at the Saint Louis University School of Law. The Eileen H. Searls Service Award is delegated to individuals who are worthy of recognition thanks to their insatiable work ethic, relentless desire to succeed and impactful innovations made in the legal field.
The Women's Law Student Association is committed to highlighting prominent women in law, hosting a reception every other year. The purpose of this reception is to pay homage to female judges who have a powerful reputation in the legal realm. This organization also highlights female judges who have shown particular leadership and commitment to women's issues and initiatives.
Attorney Collignon Gunn's selection for the Eileen H. Searls Service Award is no small feat, and her impressive accomplishment will be recognized at a judicial reception taking place on April 18th. Our firm is extremely proud of Attorney Collignon Gunn's achievement and we look forward to working alongside such an innovative and inspiring St. Louis personal injury lawyer for years to come.
Contact Our Trusted & Dedicated St. Louis Personal Injury Attorneys Today
The Simon Law Firm, P.C. is comprised of results-driven St. Louis personal injury lawyers who have a commitment to fighting for our clients' rights, regardless of any challenges which may stand in our way. Our aggressive legal team has cultivated a wealth of experience and skill in our years of advocating on behalf of those who have been injured due to the negligence or misconduct of another. With us on your side, you can rest assured you are in the right hands–allow us to fight for you today.
If you would like to schedule an initial consultation with a member of our team, you may do so by calling (314) 241-2929.