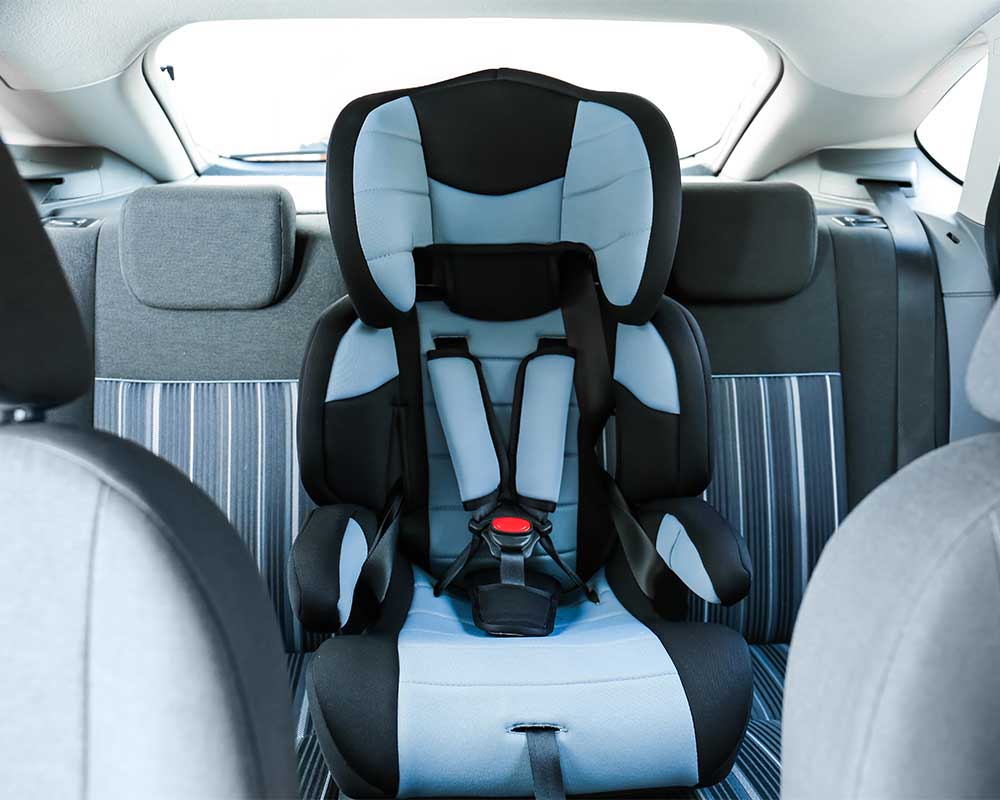 DEFECTIVE BOOSTER SEAT LAWYERS BASED IN ST. LOUIS
When child car seats and booster seats operate properly, they save countless children's lives year after year. However, if defective, those same seats may actually be the cause of such injury or death. The Simon Law Firm, P.C. is here to hold companies that put money before the lives of our children accountable.
We understand the emotional turmoil that a parent goes through if their child has been hurt or killed by a defective product that had a reasonable expectation of safety. Due to the serious nature of car accidents, any failure in booster seats can result in catastrophic injury when children are thrown from their seats, trapped in place, or hurt by the car seats themselves.
If your child has suffered an injury as a result of a defective car seat, contact the product liability attorneys at The Simon Law Firm, P.C. to obtain the compensation to which you are entitled.
contact us about your case
Booster Seat Defects
Studies have shown that adult seat belts can create intense pressure on small children's spines, leading to severe spinal cord injuries if in a car accident. All states now require children under a certain age and height to be placed in booster seats, but—as is the case with infant car seats—they are often found to be unsafe due to defects, such as:
Weak straps
Faulty latches, chest clips, and buckles
Inadequate padding
Weak frames or base units
Defective harnesses
Flammable materials
These defects can be categorized into three different types of product liability flaws. They are:
Design flaws – Part of the design of the product is inherently dangerous. For example, if the booster seat was designed with a strap made from low-quality materials that tear easily, it is considered a defect in the seat's design.
Manufacturing flaws – The defect arose from a mistake while the product was being made. For example, the car seat might have been designed with tethers to keep it securely in place but, if the manufacturer failed to install one of the tethers, this would make the car seat unstable and dangerous.
Marketing flaws – The company failed to provide a sufficient warning of the risks associated with the product's use. For example, if the manufacturer did not provide adequate instructions on what size child should use their car seat, then injury can occur if a wrong-sized child uses the product.
Contact The Simon Law Firm, P.C. for a Free Consultation
Who is Responsible for a Defective Car Seat?
When a child's injury is due to a defect in the car seat, a product liability action may be brought against a party in the product's chain of distribution. This can include:
Manufacturer of the defective part
Assembling manufacturer
Wholesaler
Retailer
One or even all parties in this chain may potentially be liable. You may be entitled to compensatory damages related to past and future medical expenses, rehabilitation, lifelong care, pain and suffering, loss of earning potential, and adjustments made to your home or vehicle to accommodate injuries.
How a Product Liability Lawyer Can Help
Bringing an action for an injury caused by a defective car seat is a complex process. We are one of the very few firms in St. Louis that have the experience and resources necessary to successfully handle these types of cases.
Our attorneys will investigate claims, take depositions, and perform extensive research on booster seat design, safety, and regulation. Our efforts may bring us to consult with experts in the industry for a deeper understanding of the technical principles involved in manufacturing booster seats.
We make it our mission to uncover hidden truths behind booster seat companies that are guilty of needlessly putting children at risk while attempting to increase their own profits. Our firm's St. Louis product liability lawyers can examine your case and protect your rights.
Evenflo Booster Seat Lawsuits: Do You Have a Case?
Our attorneys are now evaluating claims against booster seat maker Evenflo. A recent report by ProPublica revealed that Evenflo marketed their "Big Kid" booster seat as "side impact tested" even when its own crash tests showed that any child using the product would be in danger of injury if in a side-impact car accident.
The unfortunate reality is that booster seat companies that advertise their seats as "side impact tested" are testing against their own private criteria. Results are not made public or scrutinized by an agency, and there is no government standard to even compare to. Parents should know that when companies say that their product is "side impact tested," it is a marketing tactic and not a real safety consideration.
If your child was injured in an Evenflo "Big Kid" booster seat or any other child car seat that claims it is "side impact tested," you might have a case. Contact us now to learn more.
Contact The Simon Law Firm, P.C. for a FREE Consultation
Our mission is to provide the highest-quality legal services with integrity, professionalism and respect for our clients.
We handle our cases on a contingency fee basis, so you don't pay unless we recover for your case.
We have been named on of thee "winningest firms" in the U.S. by The National Law Journal.
Meet our Dedicated Team of Attorneys
When you are in need of qualified and reliable guidance, you know where to turn.
The Simon Law Firm, P.C. is ready to listen to your story and review the complex aspects of your case.
Our mission is to provide the highest-quality legal services with
integrity, professionalism, and respect for our clients.
Contact Our Firm Today
The Simon Law Firm, P.C. has the resources and expertise to handle your case without sacrificing the personalized counsel and support you deserve.
contact us