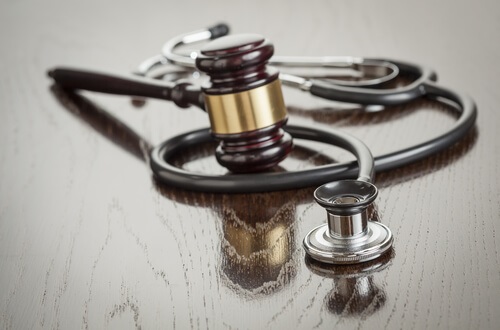 Hypothermia therapy, which is sometimes referred to as head cooling, was approved by the Food & Drug Administration (FDA) in 2006 and studied since the 1980s, is a life-saving and injury-preventing technique that is effective for newborn babies to reduce the effects of oxygen deprivation during birth. To prevent brain damage, hypothermia therapy works to slow the spread of damage between brain cells, delaying or even preventing brain cell death, and greatly minimizing brain cell degradation associated with apoptosis. Studies have shown this form of therapy increases a newborn's chance of survival as well as the risk of neurological disabilities.
It is your doctor's responsibility to monitor your unborn baby and recognize when medical intervention, such as hypothermia therapy, is necessary. If your doctor failed to perform his or her duty, you have a right to pursue compensation for medical malpractice. The St. Louis medical malpractice lawyers at The Simon Law Firm, P.C. can assist you through this process.
How Hypothermia Therapy Works
Hypothermia therapy is effective for a variety of reasons. First, it delays cell death caused by birth asphyxia. The cell death does not occur immediately, but rather gradually, giving medical personnel about 6 hours to administer this form of therapy. Hypothermia therapy also helps to reduce the spillage of harmful neurotransmitters that might be damaged or killed through the process of excitotoxicity.
Hypothermia therapy is certainly not new to the medical community and is, thus, considered standard care for birth asphyxia. If medical personnel is negligent during the delivery of your infant, your child might not receive the hypothermia therapy treatment that he or she needs to avoid serious injury or death. Failure to perform this critical form of treatment usually results from:
Failure of overseeing doctor or medical staff to monitor baby for signs of distress, such as asphyxia or heart abnormalities
Failure of overseeing doctor or medical staff to take the necessary actions required to respond to any difficulties during childbirth
Failure to recognize preeclampsia in mothers
Failure to detect dangerous umbilical cord problems
Failure to perform a necessary C-section or delayed C-sections
Failure to perform hypothermia therapy in a timely manner
Signs That Hypothermia Therapy is Necessary
There are some common signs that health providers should be aware of, which indicate the need for hypothermia therapy. This includes:
Fetal heart abnormalities
Presence of meconium in the amniotic fluid
Difficult delivery
Infant is too large or small for gestational age
Lack of oxygen in the mother's blood
Fetal anemia
Premature birth
Umbilical cord problems during the delivery
If you are experiencing a difficult pregnancy, discuss the possibility of hypothermia therapy with your doctor. Not all pregnancies with complications require the use of this treatment, but it is still a wise decision to have a discussion to address your concerns.
St. Louis Medical Malpractice Lawyers
Healthcare providers, from physicians to nurses, all must uphold a certain standard of care that is aligned with what other competent medical professionals would do under similar circumstances. When they fail to do so, serious errors can occur, which can impact the lives of patients for years to come or, in some cases, for the rest of their lives.
The St. Louis medical malpractice lawyers at The Simon Law Firm, P.C. are committed to fighting for the rights of those injured by negligent healthcare providers and will provide guidance and advice throughout the entire process.
Call our office today at (314) 241-2929 to speak with our qualified and seasoned St. Louis medical malpractice attorneys.