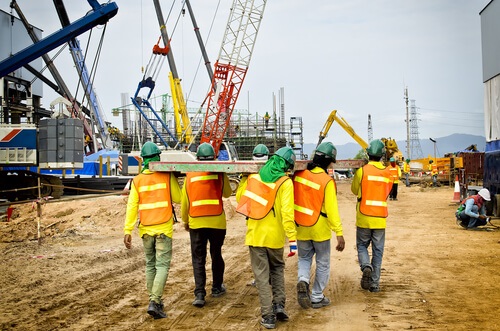 Construction work is riskier than many other types of occupations. In fact, accidental fatalities and injuries occur more frequently than you might think. With this in mind, it's important that construction workers educate themselves about the inherent risks associated with their line of work. In this blog, we explain the top 3 risks construction workers currently face.
Risk #1: Working At Tall Heights
Building and demolishing structures requires you to work at different heights. Sadly, falls from height accounted for about 3 in 10 fatal accidents in 2014. Many of the risks that come with working at height are usually increased by limited access and restrictions on mobility that are inherit to construction work. This is why it is vital that employees receive regularly updated training for working at height.
Risk #2: Moving Large or Heavy Objects
A construction site can be a hectic environment. The volume of constantly moving vehicles and workers means that moving objects around the work site can be quite the challenge. Uneven terrain and unobservant employees can sometimes cause accidents that endanger the health and safety of workers. It's important that construction workers are aware of any large or heavy objects being moved within their vicinity.
Risk #3: Slips, Trips, & Falls
When you work on a construction site, there is a wide range of activities and terrains that you must interact with in order to do your job. From holes in the ground to buildings at various stages of completion, it is very easy to slip, trip, or fall at a construction site. In fact injuries related to slips, trips, and falls happen on a daily basis.
If you have suffered an injury while working at a construction site, you should immediately consult with an experienced lawyer. At The Simon Law Firm, P.C., our team of attorneys are here to guide you through any legal obstacles you might encounter when you file your injury claim.
Call (314) 241-2929, or contact our St. Louis personal injury attorneys to get started on your free consultation.